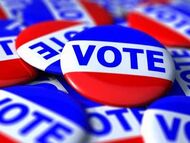 This page provides history of all the elections run on the wiki and results of each. When adding new elections, add them to the bottom of the list. Also include the date, and the winner. Every election will result in one of the entry users being picked, and the day they are promoted is shortly after the voting ends. If something is wrong with the history, message an administrator, and they will check the past elections and fix it.
Ad blocker interference detected!
Wikia is a free-to-use site that makes money from advertising. We have a modified experience for viewers using ad blockers

Wikia is not accessible if you've made further modifications. Remove the custom ad blocker rule(s) and the page will load as expected.