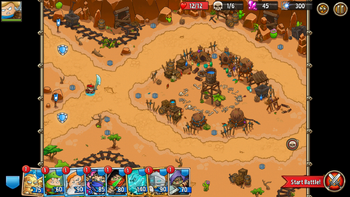 Description
Edit
"The quarries in this valley have been in use much more recently than the other ruins we've seen. Judging from all the clean-pecked human bones, these new arrivals got a warm welcome from the old residents. I wonder if we taste like chicken..."
Completion of this level allows you to access a Card Lock requiring Sniper Tower (Level 3) and Poison Tower (Level 4) in order to pass and advance to Yeti Land (Boreal).
Information
Edit
| Heart | Mana | Waves | Towers | Avg. Time | |
| --- | --- | --- | --- | --- | --- |
| 12 | 300 | 6 | 11 | ~6 min | 6 |
Opposing Army
Edit
Each new Star you win in this level earns you a reward from this chest! (Items in parentheses are predefined and not random.)
Related Quest
Edit
For the moment, "Larkspur Roost" has no related quest.
Strategy Guide
Edit
http://crazykings.wikia.com/wiki/Thread:3081
Please check the link above for detailed discussion on this level. If you have problems winning other levels, try searching the forum to find instructions!
Location
Edit