"Bestows its wearer with the bullheaded fortitude of the Minotaur King."
This is a unique equipment card that can be won by getting 3 crowns and defeating King Bullhead IX on the Iron Throne. The Taurine Crown provides health, regeneration, and magical protection with no negative side effects.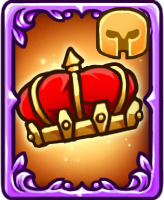 | | |
| --- | --- |
| Health Boost | 200 |
| Regeneration | 1.0 |
| Magic Defense | 10% |
Appearance
Edit

Ad blocker interference detected!
Wikia is a free-to-use site that makes money from advertising. We have a modified experience for viewers using ad blockers

Wikia is not accessible if you've made further modifications. Remove the custom ad blocker rule(s) and the page will load as expected.